Bronze Markers
Rose Lawn has exclusively used bronze for all family memorials since the cemetery first opened.
The cemetery office has always been the best place to select the memorial to commemorate the life of your loved one. We have an extensive selection in a wide variety of prices. We have the software to design your bronze memorial in our office and provide you with a full color picture of how it will appear before it has been cast.
You can purchase with confidence as our staff is licensed by the State of Illinois Department of Financial and Professional Regulation. A purchase from an independent memorial dealer offers no such consumer protection.
Our permanent records allow us to service all of your memorial needs in the years ahead. In addition, the revenue from your purchase from the cemetery supports our efforts to maintain the cemetery's lawns and roadways. Our office also offers a selection of floral vases, and replacement vases in an array of prices.
Please call us for details or to set an appointment to stop by our office in Rock Island.
For more designs, click on the "More Info" link.

More Info >

More Info >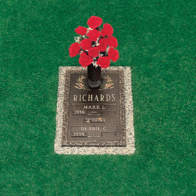 More Info >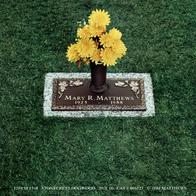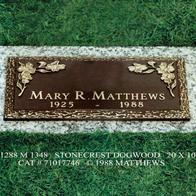 More Info >
More Info >
Granite Foundations and Refinishing
Over the years families have asked if there is a better way to provide for better stability and appearance of their memorials. The cemetery began to require granite foundations for all memorials sometime in 2006. Bronze memorials are now installed on a granite base available in a variety of colors which serves to prevent the memorial from sinking and also keeps the lawn from encroaching on the bronze. Granite can be added under any existing memorials to improve their appearance. Also you might consider having your memorial professionally cleaned and refinished at the bronze foundry. The foundry will apply a protective coating to keep your older memorial looking new for the many years ahead. Call the cemetery office for a price quote for these services.